On Call® Vivid
Advanced System for Better Care
Specially designed to make quality testing Easy and Accurate
Back light and strip port light
Fast and accurate results
On Call Vivid Test Strips
All On Call Vivid meters are compatible with On Call Vivid test strips. The strips feature:
Small sample size – 0.8µL
Individually packaged strip with 24-month shelf life
No coding for fast results
Accurate and reliable results
Active Hematocrit Correction Technology (AHC)
Active Hematocrit Correction (AHC) Technology allows blood glucose testing with very high or very low (20%) hematocrit levels.
High Hematocrit level (51-65%) in the neonatal blood and low glucose concentrations (20-80 mg/ml) in the neonatal blood.
Low Hematocrit level (33% or lower) in anemic patients' blood which might contain a low blood hematocrit level.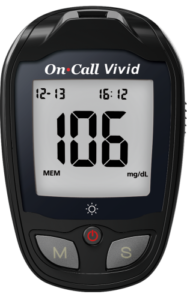 Resource Library
Browse our Resources Library for documents available for download.